My husband, Leon was the guy who made the first quote. He loves sports. And he was always encouraging our children to participate. Sports can teach many things. Discipline, respect for self and others, self-control, leadership, and just to have fun at whatever you do and do your best. Don't give up. He would tell them the only failure was in not trying. He brings these same values to our grandchildren. And fishing is a must around here for the boys.
Lee was a real fisherman. He loved fishing. He could hardly wait to go each year and planned on doing a lot when he retired. Sadly, he died just 3 months before retirement.
When our children were young he took them to the creek on one visit. There were some fish in the water and Adam asked him what kind it was. Grandpa said, "It's a red horse." Adam being only 4 at the time looked over to his sister and said,"Kim, that ain't no horse."
Lee was a fisher of men. He loved the Lord. He was a country minister and a bass singer in a gospel quartet. Fishing whether for fish or men brought him pure joy.
My dad was the last quote. I only remember him and my Mother going one place without us kids. Then they cut their trip short and came home because all they were saying to each other was, "The kids would sure like this." My Dad had a johnboat he would take us out in on the river. I didn't like it but I wanted to be with my Dad.
The one thing that haunts me to this day about my Dad was something he said to me at his Father's funeral. "I don't remember one nice thing my Father ever did for me." My reply was, "That's something you will never have to worry about your kids saying about you." You see my Grandfather was an alcoholic and a mean one at that. But my Father always showed him respect and honored him because he was his Father. It saddened him tremendously to remember his Father that way.
These four men have had the most influence on my life and my children and grandchildren. We honor them this day.
Father's Day was Needed
Helen Kitchell Evans
Father's Day was needed
So a time was set aside
To honor fathers everywhere
A time to show our pride.
For all the fathers who work hard
To give their families the best.
Many work extra hours
With very little rest.
So on this Father's Day
Give him some extra love.
Thank God for the blessings
He sends you from above.

What Does God Want of Fathers?
Instruct your children in his word.
Teach your children to pray.
Reach out to children who are fatherless.
Love your neighbor.
Teach your children gratitude.
Show kindness to your family.
Trust him even when you don't understand.
Speak encouraging words to all.
Teach your children to love God.
Grow in your own Christian walk.
Share your faith with your children.
Ask forgiveness when you wrong your family.
Never stop loving your wife.
Be wise with your families finances.
Bring your tithe into his storehouse.

Life affords no greater responsiblity,
No greater privilege,
Than the raising of the next generation.
C. Everett Koop
In everything set them an example by doing good.
Titus 2:7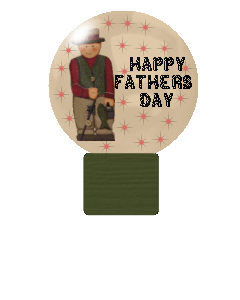 Gone fishing! Instead of just a wishing!
Snow Script Provided by:
Lissa Explains


Guest Book Provided by:
Bravenet