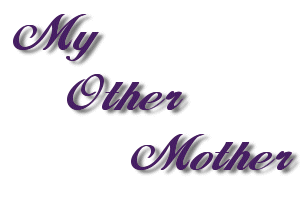 You are the Mother I received
the day I wed your son.
And I just want to thank you, Mom,
for the things that you have done.
You have given me a gracious man
with whom I share my life.
You are his lovely Mother and
I his lucky wife.
You use to pat his little head
and now I hold his hand.
You raised in love a little boy
then gave me a man.
Author Unknown
Thank you, Margaret. God blessed me with two Mothers. You've been an inspiration to me in my walk with our Lord. And I want to thank you for the example you set for me. You've shown me the power of prayer many times. The unconditional love you've given me from the day I became your daughter-in-law hasn't gone unnoticed.
All my love,
Anna Mae
I chose this graphic because I know how much you love the outdoors and the beautiful world our Lord created. It also reminded me of the cross.