Fall Brings the Harvest
Fall marks the end of the gardening season. People are gathering their crops and storing them for the winter. At this time of year one of my favorite scriptures always comes to mind.


Galations 5:22-26
But the fruit of the spirit is love, joy, peace, longsuffering, gentleness, goodness, faithfulness, meekness, temperance; against such there is no law. And they that are Christ's have crucified the flesh with the affections and lusts. If we live in the Spirit, let us also walk in the Spirit. Let us not be desirous of vain glory, provoking one another, envying one another.

These verses give us a list of characteristics we should all strive to develop in order to serve our brothers and sisters needs. It also tells us what not to do in verse 26. I've asked myself why do I think it is called the Fruit of the Spirit? When we receive Christ as our Savior the Holy Spirit enters us and a seed is planted; as we cultivate it, it will grow and bear fruit of God's work in us. As brothers and sisters in Christ we need to cultivate that seed in each other so it will grow and bear fruit for the Lord. So let's take a look at our garden and see what we are harvesting.

Love: one definiton of love is to please or promote the welfare of the other. What a wonderful thing to be able to do for a brother or sister in Christ. To do things that bring them pleasure; to lift their needs up to the Lord in prayer, to cultivate them so their spirit will grow. I look at love as the fertilizer for the spirit. God loves us unconditionally. Let's give others the same kind of love.

Joy and Peace: in our gardens we get all kinds of beetles and worms. There are a host of things that can destroy our crops. There is one worm known as the cut worm that will ruin the root system of your crops. So we have to use our gardening skills and maybe some pesticide to get rid of these pests, so we can have an abundant harvest. Satan will do everything he can to destroy our root system. He wants to rob us of our peace and joy in the Lord. We must study God's word and use it like a pesticide to prevent Satan from destroying our roots.

Romans 15:13, Now God of hope fill you with joy and peace in believing, that ye may abound in hope, through the prayers of the Holy Ghost.

We can have joy and peace no matter what the conditions are around us if we are rooted in the word of God. Paul was a perfect example of that. He praised God no matter what situation he found himself in and even when God didn't take his affliction away. Be an example to all. Look for the blessings even in the draughts and plagues and testify to your joy and peace.

Longsuffering (patience): This is not my best trait. Sometimes we have to wait on the Lord to meet our needs. His timing is best. It's not always a pleasant time for us but we must endure the process and the pressure this may bring to our lives. With the harvest season on us I thought of patience and longsuffering like the processing time on a canner. If not done properly the food will spoil. God gives all of us some processing time. The attitude we display during this time tells everyone around us what type of fruit we are bearing. Joy in the waiting or grumbling? Let's not let our harvest be spoiled by bad processing.

Luke 21:19 In our patience possess ye your souls.

Joyce Meyer put it this way, "If you don't control your impatience, your impatience will control you."

Gentleness, meekness, kindness: a synonym of gentle is meek or humble.

I don't know about you but I put a lot of work into my garden. I've been known to show off my harvest with pride. But we need to remember this Bible verse.

Proverbs 16:18, Pride goeth before destruction and a haughty spirit before a fall.

God gave us everything. And He can take it away.

One defition of meek is lacking backbone or spirit. We use words like gentle, meek, humble to describe Jesus. He did not lack in backbone or spirit. His gentleness, meekness, and humility brought him to the cross for us. He was full of Spirit. To God be the glory great things He hath done. Jesus came to us in human form but he never allowed that to interfere with serving us and doing God's will. He served the fruit for all who wanted to partake of it. Serve your brothers and sisters not in pride of look what I did. But humble yourself and let the Lord work through you so they can bear healthy fruit as they serve Him.

Faith (faithfulness) I don't think you can separate the two. If you have faith you want to be faithful.

James 2:26, For as the body without the spirit is dead, so faith without works is dead also.

You plant a seed in the garden. That's faith, belief without evidence. You don't see what's going on in the dirt but you believe it will grow. That's why you planted it. If you faithfully work in your garden and if God provides good growing conditions you'll reap a bountiful harvest.

Consider the obligation you have to your brothers and sisters in Christ. They have faith that you are praying for them, that you will be there for them when they need you. Be faithful in your work for the Lord in serving them and praying for them, and you will reap a harvest of blessings.

Temperance: calmness, self-control

II Timothy 1:7, For God hath not given us the spirit of fear; but of power and love and of a sound mind.

If your garden is destroyed by bad weather, disease or pests. do we rant and rave or do we choose to work harder and try again so we can harvest the food we need and want. II Timothy tells us God gives us a sound mind. He has given us a free will to choose how we act and what kind of fruit we bare. Choose is the key word here. Let's harvest calmness and self-control in the face of adversity. Let's work together and reap the treasures of heaven.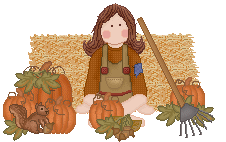 To Beth
Your love and support has meant a lot to me over the years. We've been sister-in-laws for over 30 years. We haven't always agreed about things but over the last several years we've learned to appreciate each other in a whole new way. We've both been thinking less of ourselves and more about our Lord. And it's been a real blessing to our relationship. We're not just sister-in-laws, we're friends. Most importantly we're Sisters-in Christ. I may think you've changed the most. You may think I have. We may have traveled different roads to arrive at this point in our lives. But there is one thing for sure. We both give thanks to the Lord for this time in our relationship. Someone we know we can count on to lift us up to Lord. Thank you.

Make Us One
author unknown
If my sisters down
Will I leave her down
Or will I lift her high until your face she sees.
If I reach for you
And she's reaching too
Then we both will be one great that we should be.
Make us one Holy Father, make us one.
So the world will know that you have come.
Make us more like one another as you make us like your Son.
Make us one Holy Father, make us one.

I know this was long, but just one more thing in closing. One of my favorite Bible verses is Galations 6:2, Bear ye one anothers burdens and so fulfill the law of Christ. It's a real comfort to know that the Lord has provided brothers and sisters here on earth to lift me up when I'm down. If you see your brother or sister having a problem in any area of their garden. I hope you'll do what Beth and I do.


Apply a lot of fertilizer.


Love
And remember, for the best produce for the price,
shop at
Heaven's Grocery Store